Father Cong Thanks You For Your Prayers!


Father Tim brought Father Cong home today, 1-21-2021, from the hospital after dealing with Covid and Pneumonia.
Father Cong wants to thank the St. Michael family for your prayers and concern while he was hospitalized.
We take joy in welcoming Father Cong home!!!
God is good….He is very good!!!
Help Support Catholic Radio on Feb. 6th/7th!


Our St. Michael 2nd collection on the weekend of February 6th/7th, will be to support our Catholic Radio station, WMKP 98.9FM here in Gainesville.
We broadcast the EWTN Catholic Radio network on 98.9FM 24 hours per day.
The monthly expenses of the station are around $600 per month. One of our chief expenses is the monthly rental fee of the antennae, which is located on Dawsonville Hwy in front of Home Depot.
One of the main objectives of 98.9FM is to be ecumenical and reach out to non-Catholics and fallen-away Catholics as they drive-thru town listening to the radio. When they land on 98.9FM they will hear the truths of the Catholic faith allowing the Holy Spirit to bring them closer to our Lord Jesus Christ.
Thank you for your support on Feb. 6th/7th!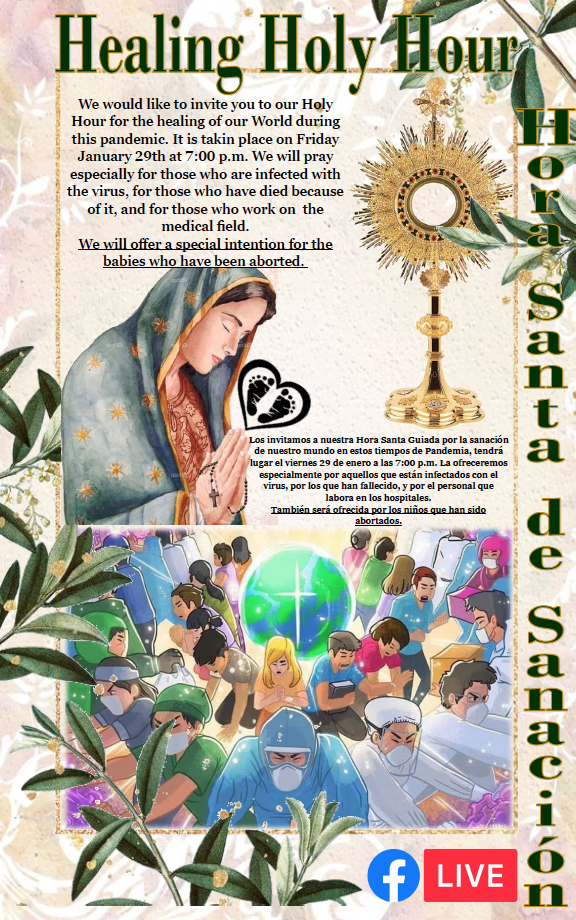 St. Michael Maximum Reached for Jan. 26th
Covid Vaccinations


The Health Department has restricted our Covid Vaccinations on Jan. 26th for  those 65 years and over to 100 individuals. We have reached that number who  have submitted their consent forms.  
The Health Department is very happy with the response and they may set up a  future date for more vaccinations. We will post that information as soon as we  have it.
Pro Life Day
Saturday, Jan. 23, 2021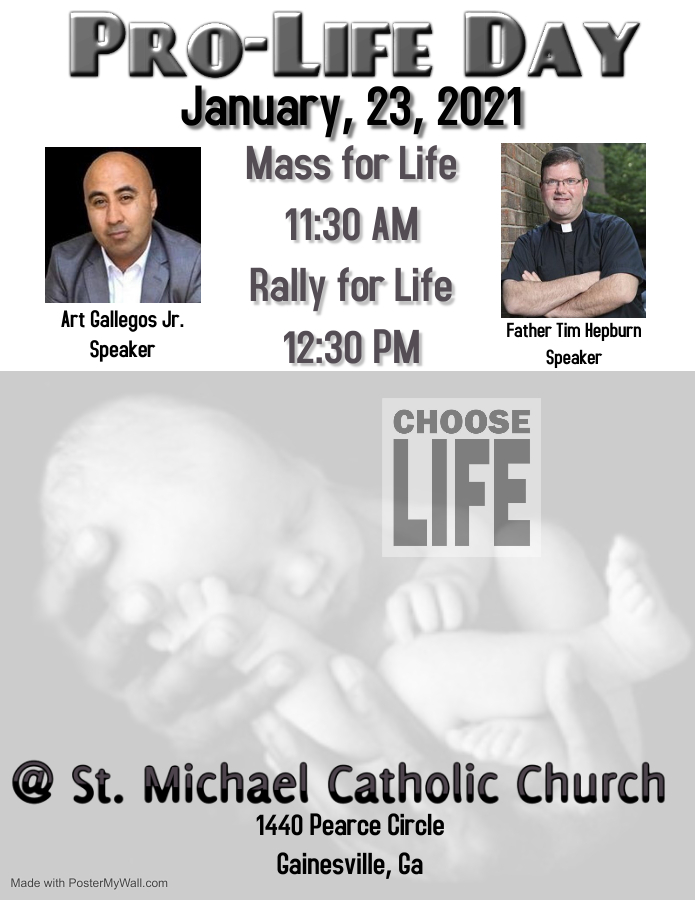 Counting Our Blessings Needs You!
At St. Michael we have a wonderfully dedicated team called,
"Counting Our Blessings". We meet every Monday morning
from 8am to 10am, to count the parish offertory from the
weekend. We need an additional two members to our team.
Currently our team is made up of Amelia Seid, Cathy Lampert,
Russ Williams, Blaise Giove, Deborah Ulum, and Deacon Ken.
If you can commit to two hours per week every Monday
morning, and are good with counting and details, please email
Deacon Ken at k.lampert@saintmichael.cc and let him know
you are interested in helping to Count Our Blessings!
Eucharistic Miracle
of the Week
Archbishops Annual Appeal 2020
Final Year End Results
12/31/2020
Goal for 2020: $73,500
Total pledged: $100,121
Pledges paid: $85,942
Goal % achieved: 117%
Rebate from Archdiocese back to St. Michael
$12,495 !
Thank you to the 329 families who pledged to
the Archbishops Annual Appeal last year!
Announcement for the wearing of
facemasks at Mass due to Covid-19
We would like to remind all Mass attendees over the age of 7 years old, that we are required by the Archbishop of Atlanta to wear protective facemasks and social distance during our Mass celebration. The Centers for Disease Control have stated, "the wearing of protective facemasks are one of the most powerful weapons we have to slow and stop the spread of the virus". Thank you for showing your care and respect for all of our brothers and sisters around us. 
If for any reason you cannot wear a facemask throughout the entire Mass, please see an usher and they will find space for you in the social hall or in a classroom downstairs where you can watch the Mass on Facebook live.
Providing a Safe Environment 
Providing A Safe Environment
St. Michael and the Archdiocese of Atlanta is committed to provide a safe environment for all its' parish family. We have an ongoing concern for those who have suffered abuse. The Archdiocese provides an abuse hotline at 1-888-437-0764 to report abuse or suspected abuse. At our St. Michael website, www.saintmichael.cc, under the banner of Safe Environment, you can access other resources to report suspected abuse. The Archdiocese of Atlanta provides ongoing support for healing for those who have suffered this inexcusable trauma.