Stations of the Cross
on the Friday's of Lent


Please join us for the Stations of the Cross on the  Friday's of Lent at 5pm in English and 7pm in Spanish. Confessions will be heard by our priests also on the  Friday's of Lent, from 5:30pm to 6:30pm. 

KOC Fish Fry's during Lent


For only $10 per plate ($35 for the whole family), you  can enjoy a Friday night Lenten dinner of fried fish (cod) or fried shrimp, french fries or rice, cole slaw, & dessert,  and including a drink. (coke, sprite, or bottled water).  
Join us in the Social Hall on Fridays of Lent (up to March  26th) from 5pm to 6:30pm and this year it is "Take out  only".
 Archbishop's Annual Appeal 2021


Today we wish to recognize those who not only support  St. Michael but also have made a gift or pledge to the  Archbishop's Annual Appeal. On behalf of those who  will be served by your contributions, thank you to all who have made their pledge for 2021. 
For those of you who have not had an opportunity to make a pledge or a gift this year, pledge envelopes are available in the narthex or at our St. Michael office. 
When each of our individual gifts are combined with the gifts of thousands of other Catholics throughout the archdiocese, each contributor makes a very real difference in the ability of the archdiocese to provide for ministries and services. Thank you again for your support. 
Larry Crosswhite blue bird house donation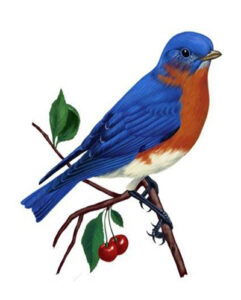 Thank you Larry Crosswhite for the donation
of our new St. Michael Blue Bird, birdhouse
we placed out in front of the church! St. Francis and the parishioners of St. Michael will enjoy it, and the new families of Blue Birds to come!
Let us pray for the repose of the souls of those who died in the poultry plant accident involving liquid nitrogen on Thursday, Jan.  28th, 2021 here in Gainesville.


Jose DeJesus Elias-Cabrera age 45 
Corey Alan Murphy age 35 
Nelly Perez-Rafael age 28 
Saulo Suarez-Bernal age 41 
Victor Vellez age 38 
Edgar Vera-Garcia age 28
Counting Our Blessings Needs You!
At St. Michael we have a wonderfully dedicated team called,
"Counting Our Blessings". We meet every Monday morning
from 8am to 10am, to count the parish offertory from the
weekend. We need an additional two members to our team.
Currently our team is made up of Amelia Seid, Cathy Lampert,
Russ Williams, Blaise Giove, Deborah Ulum, and Deacon Ken.
If you can commit to two hours per week every Monday
morning, and are good with counting and details, please email
Deacon Ken at k.lampert@saintmichael.cc and let him know
you are interested in helping to Count Our Blessings!
Eucharistic Miracle
of the Week
Announcement for the wearing of
facemasks at Mass due to Covid-19
We would like to remind all Mass attendees over the age of 7 years old, that we are required by the Archbishop of Atlanta to wear protective facemasks and social distance during our Mass celebration. The Centers for Disease Control have stated, "the wearing of protective facemasks are one of the most powerful weapons we have to slow and stop the spread of the virus". Thank you for showing your care and respect for all of our brothers and sisters around us. 
If for any reason you cannot wear a facemask throughout the entire Mass, please see an usher and they will find space for you in the social hall or in a classroom downstairs where you can watch the Mass on Facebook live.
Providing a Safe Environment 
Providing A Safe Environment
St. Michael and the Archdiocese of Atlanta is committed to provide a safe environment for all its' parish family. We have an ongoing concern for those who have suffered abuse. The Archdiocese provides an abuse hotline at 1-888-437-0764 to report abuse or suspected abuse. At our St. Michael website, www.saintmichael.cc, under the banner of Safe Environment, you can access other resources to report suspected abuse. The Archdiocese of Atlanta provides ongoing support for healing for those who have suffered this inexcusable trauma.