Advent Mission  | Mision de Adviento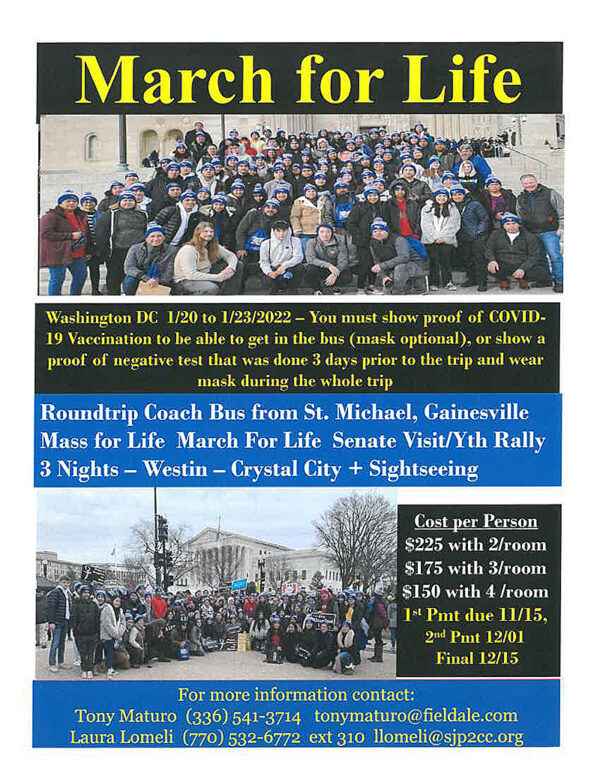 Archbishop's Annual Appeal Update 2021
We are in the last two months of our 2021  Archbishops Annual Appeal this year.  
Here is where we stand. We are getting close! 
Goal: $80,100 
Pledged so far: $90,768 
Paid to date: $70,240 
% of Goal Received: 88% 
Number of Contributors: 316 
The Archbishop's Annual Appeal supports many services of the Archdiocese. The Education of our  Seminarians is a key component of the Annual  Appeal.  
If you have not made your annual pledge yet,  pledge forms are available in our narthex (lobby)  or just stop by the parish office.  
Every dollar over our annual goal received comes back to St. Michael 100%!
Eucharistic Miracle
of the Week
Covid Testing & Vaccination Locations


If you have been exposed to a person with Covid or are showing symptoms, you can be tested free between 8:30am-4:30pm, Monday thru Friday in the Sherwood Plaza Shopping Center parking lot right down the street by St. Michael on South Enota behind Wendy's. The hospital has a drive-thru testing site there. 
If you want to receive the vaccination for Covid-19, you can receive a free vaccination at all Ingles, Publix, Kroger & CVS locations, and also at the Hall County Health Department at 1290 Athens St in Gainesville.
Providing a Safe Environment 
Providing A Safe Environment
St. Michael and the Archdiocese of Atlanta is committed to provide a safe environment for all its' parish family. We have an ongoing concern for those who have suffered abuse. The Archdiocese provides an abuse hotline at 1-888-437-0764 to report abuse or suspected abuse. At our St. Michael website, www.saintmichael.cc, under the banner of Safe Environment, you can access other resources to report suspected abuse. The Archdiocese of Atlanta provides ongoing support for healing for those who have suffered this inexcusable trauma.