The movie, "Faustina; Love & Mercy" coming to Gainesville on October 28th!
In a one night only showing, a movie about St. Faustina, entitled, "Faustina: Love & Mercy" will be shown at the
Regal Hollywood Cinemas, 120 Green Hill Circle NW, Gainesville, 30504 on Monday October 28th at 7pm.
5pm Youth Mass Now on Sunday!
We have introduced a new Youth Mass that is celebrated each Sunday at 5pm. The Mass is for our youth preparing for Confirmation but all parishioners and visitors are always welcome. The Mass is bi-lingual in both English and Spanish.
RCIA in English has begun!
Our new year for the Rite of Christian Initiation of Adults in English started back on Sept. 11th held at 7pm in room 18 downstairs.
RCIA is for non-Catholics interested in learning more about the Catholic faith, and becoming Catholic. RCIA also includes those who
may have been baptized Catholic but may have never received the sacraments of Holy Communion and/or Confirmation.
Classes are on Wednesday nights beginning at 7pm and concluding by8:15pm. There is no cost for the RCIA program itself. The items
participants will need to purchase are the New Catholic Answer Bible by Fireside Publishing and the Catechism of the Catholic Church which are both available for purchase in our St. Michael Gift Shop downstairs. In addition, a 3 ringed binder will be needed to place
weekly handouts the participants will receive at each session. Even though we've held a number of classes already, we can still
accept candidates for the class for a few more weeks.  For more information email Deacon Ken Lampert at k.lampert@saintmichael.cc or text at 404-664-3178,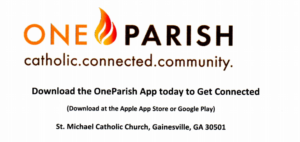 Download the One Parish App today to Get Connected
(Download at the Apple App Store or Google Play)
St. Michael Catholic Church, Gainesville, GA 30501
Word on Fire Engage Now At St. Michael from Bishop Robert Barron!
Providing a Safe Environment 
Providing A Safe Environment
St. Michael and the Archdiocese of Atlanta is committed to provide a safe environment for all its' parish family. We have an ongoing concern for those who have suffered abuse. The Archdiocese provides an abuse hotline at 1-888-437-0764 to report abuse or suspected abuse. At our St. Michael website, www.saintmichael.cc, under the banner of Safe Environment, you can access other resources to report suspected abuse. The Archdiocese of Atlanta provides ongoing support for healing for those who have suffered this inexcusable trauma.