5pm Youth Mass
to Begin
Sunday, September 8th 
On Sunday, September 8th, we will be introducing an additional Mass each Sunday at 5pm. The Mass is for our youth preparing for Confirmation but all parishioners and visitors are always welcome.
RCIA in English Starts Wednesday Sept. 11th
Our new year for the Rite of Christian Initiation of Adults in English starts Wednesday, Sept. 11th at 7pm in room 18 downstairs. 
RCIA is for non-Catholics interested in learning more about the Catholic faith, and becoming Catholic. RCIA also includes those who may have been baptized Catholic but may have never received the sacraments of Holy Communion and/or Confirmation. 
Classes are on Wednesday nights beginning at 7pm and concluding by 8:15pm. There is no cost for the RCIA program itself. The items participants will need to purchase are the New Catholic Answer Bible by Fireside Publishing and the Catechism of the Catholic Church which are both available for purchase in our St. Michael Gift Shop downstairs. In addition, a 3 ringed binder will be needed to place weekly handouts the participants will receive at each session. 
For more information email Deacon Ken Lampert at k.lampert@saintmichael.cc or text at 404-664-3178, 
Stewardship Ministry Fair Coming September 28th & 29th
All St. Michael parishioners will have the opportunity to learn more about our ministries at St. Michael, and decide which ones are a good match for you. Our Ministry Fair is coming the last weekend of September, the celebration of the Archangels! Join us in the Social Hall after all the Masses!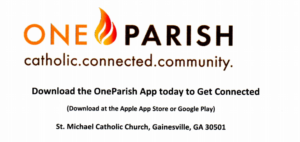 Download the One Parish App today to Get Connected
(Download at the Apple App Store or Google Play)
St. Michael Catholic Church, Gainesville, GA 30501
Word on Fire Engage Now At St. Michael from Bishop Robert Barron!
1st Friday Eucharistic Adoration Devotional Overnight Begins Oct. 4th
Starting Friday October 4th at 6pm, we will begin the 1st Friday overnight Eucharistic Adoration concluding with the 1st Saturday Mass at 9am. A sign-up sheet for Eucharistic guardians will be posted outside the chapel, so that you can select which hour you will spend with Jesus.  Please sign-up for one hour starting at 6pm on Friday nights, concluding when the 1st Saturday Mass is celebrated at 9am.
Providing a Safe Environment 
Providing A Safe Environment
St. Michael and the Archdiocese of Atlanta is committed to provide a safe environment for all its' parish family. We have an ongoing concern for those who have suffered abuse. The Archdiocese provides an abuse hotline at 1-888-437-0764 to report abuse or suspected abuse. At our St. Michael website, www.saintmichael.cc, under the banner of Safe Environment, you can access other resources to report suspected abuse. The Archdiocese of Atlanta provides ongoing support for healing for those who have suffered this inexcusable trauma.