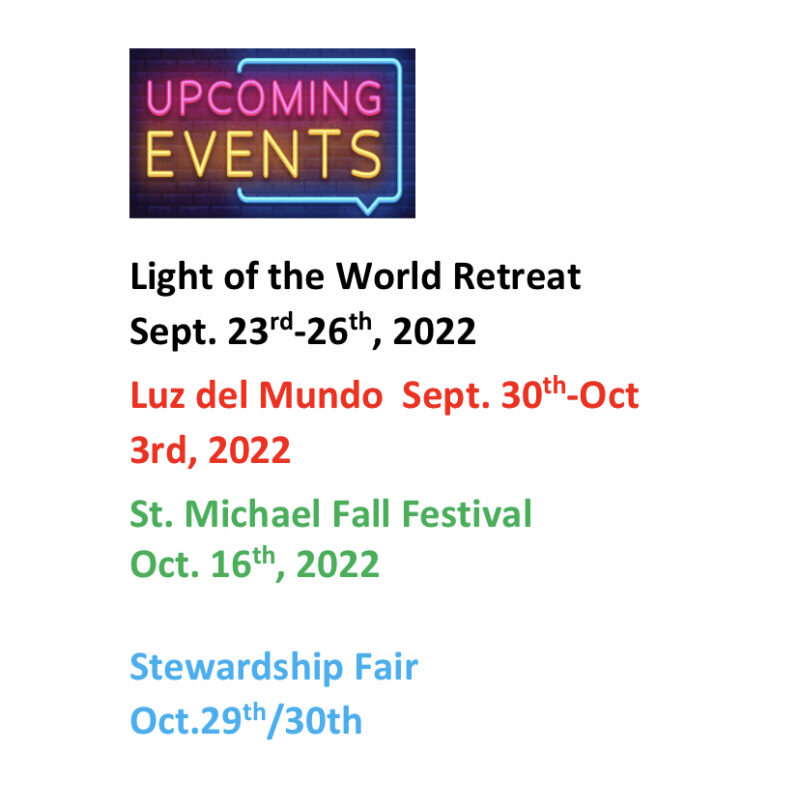 Archbishops Annual Appeal 2022
Update 7/27/22
Your gift to the 2022 Archbishop's Annual Appeal helps make it possible to support our Seminarians education where in a few years they will be assisting our priests serving over 1,000,000 Catholics in the Atlanta Archdiocese.
Our St. Michael parish goal for the Archdiocese is $74,900 this 2022 calendar year. Currently, here is where we stand.
Goal for 2022: $74,900




Pledged to date: $81,217




Pledges Paid to date: $58,106




% Goal achieved: 78%




Number of families who have pledged: 294
Five Georgia Martyrs Canonization Effort and Mural 

The Mural that now is displayed in the Narthex was painted by artist Clorinda Bell.
The formal dedication of the mural of the 5 Georgia Martyrs will take place on Saturday, Sept. 17th after the 4:30pm Mass. A reception and presentation will then follow in the Social Hall, along with an exhibition of Catholic art painted by Clorinda.
In the late 16th century, six Spanish Franciscan priests came to what is now the Georgia coast to minister to the native people called the Guale.
By 1597 there were 5 missions in Coastal Georgia where Franciscan friars preached the Gospel, learned the Guale language, and lived peacefully with the native population. In September 1597 due to the friars not allowing a baptized Guale man to take a second wife, the heir to the Guale chiefdom ordered the death of the friars. Over a 3 day period, five of the six friars were killed.
Please go to www.thegeorgiamartyrs.org to learn more about the 5 Georgia Martyrs canonization.
Eucharistic Miracle
of the Week
Providing a Safe Environment 
Providing A Safe Environment
St. Michael and the Archdiocese of Atlanta is committed to provide a safe environment for all its' parish family. We have an ongoing concern for those who have suffered abuse. The Archdiocese provides an abuse hotline at 1-888-437-0764 to report abuse or suspected abuse. At our St. Michael website, www.saintmichael.cc, under the banner of Safe Environment, you can access other resources to report suspected abuse. The Archdiocese of Atlanta provides ongoing support for healing for those who have suffered this inexcusable trauma.