Upcoming Events for November and December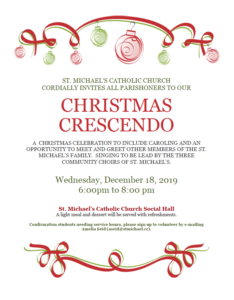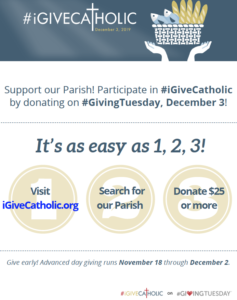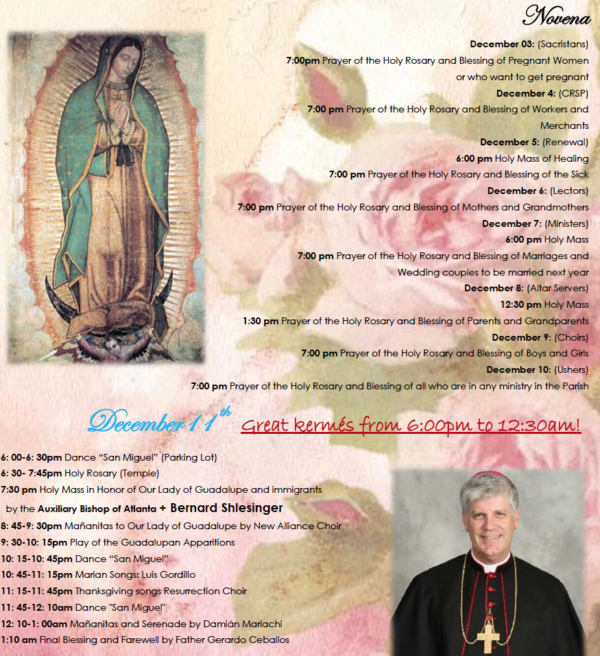 Advent Penance Service on December 17
On Tuesday, December 17th at 7p.m., there will be an Advent Penance Service held at St. Michael. It will begin with a short prayer service, then parishioners will have the opportunity to receive the Sacrament of Reconciliation. In addition to our parish priests, we will have a number of other priests from our Deanery here to hear confessions.
Special Announcement from Deacon Ken
Major St. Michael Repair Projects Upcoming
Our Parish has two large costly upcoming repair projects on the horizon. I am reaching out to the parish for referrals or business contacts in these two areas that we can talk to, who may assist the parish to accomplish these in the most economical matter.
The first is a new roof for the rectory behind the church. It is estimated to be a $20,000 project. It will need to be replaced in 2020.
The second issue is ground water infiltration along the front of the church by the School of Religion, and a similar issue at the rectory, causing flooding in heavy rains. The cost of this waterproofing is $10,000.
If you would know of any contractor in these two areas, that may be willing to work with St. Michael on these projects, please reach out to our Facility Manager, Deacon Bill Lange at 770-297-5276 or E-mail Deacon Bill or talk to Father Tim.
Yours in Christ,
Deacon Ken
Providing a Safe Environment 
Providing A Safe Environment
St. Michael and the Archdiocese of Atlanta is committed to provide a safe environment for all its' parish family. We have an ongoing concern for those who have suffered abuse. The Archdiocese provides an abuse hotline at 1-888-437-0764 to report abuse or suspected abuse. At our St. Michael website, www.saintmichael.cc, under the banner of Safe Environment, you can access other resources to report suspected abuse. The Archdiocese of Atlanta provides ongoing support for healing for those who have suffered this inexcusable trauma.