Life Boy Scout Charlie Basinger of Troop 16 would like to thank the parishioners of St. Michael for being so generous with their donations to help him fund the landscaping of our new Marian prayer garden in back of the church. Parishioner Indalecio Salazar and his team built the new grotto and Charlie for his Eagle Scout Project will be building benches and landscaping the prayer garden area in a few weeks.

Nota: Por favor de registrarse en la página de VIRTUS.org ό ponerse en contacto con: Laura Lomelí – 770)532-6772 ext. 310 – si necesita ayuda con la registración o si tiene alguna pregunta.
NO HABRA CUIDADO DE NIÑOS
VIRTUS Training in Spanish Facilitator: Laura Lomeli & Beth Andert Saturday, August 1 at 8:45 AM in the Social Hall at St. Michael 
VIRTUS Training in English Facilitator: Deacon Pat Fagan & Beth Andert Saturday, August 15 at 8:45 AM in the Social Hall at St. Michael 
Register at www.virtus.org
Please do this as soon as possible All Extraordinary Eucharistic Ministers/ Ministros Extraordinarios, Youth Ministers/Ministerios de Jovenes, Catechists, Niño Especiales, Renovición Carismática, Monaguillos, Quinceañeras or anyone who works with the youth/jovenes or vulnerable adults in a ministry. Any questions or concerns, please contact Beth Andert at bandert@saintmichael.cc or 678-831-8047.
A Reminder of our 5pm Sunday Mass
Last fall we began a bilingual 5pm Sunday Youth Mass. This
Mass in the summertime has a lower attendance since the
Confirmation classes do not meet during the summer. If you
are concerned about attending Mass because of covid-19,
during the summer, this is a good Mass to attend because
there is plenty of room to social distance.
Everyone is always welcome at the Sunday 5pm bilingual
Youth Mass!
Juan Carlos's Bible classes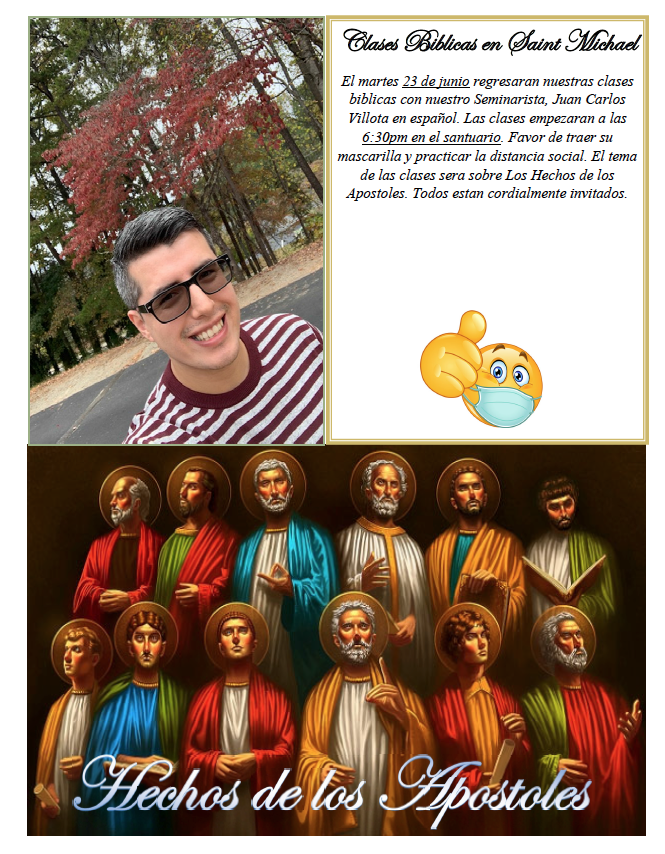 A Prayer for Internal Peace during a time of unrest & fear


(In the name of the Father, and of the Son,
and of the Holy Spirit, Amen.)
We are all children of God.
I am a child of God.
All children love one another
Why would I not love someone,
just because they are different from me?
God is different from me,
yet God is love, and I love God.
God is with us always.
I am my brother's keeper.
Jesus, use my hands to serve others.
Today, tomorrow, be not afraid.
St. Michael the Archangel,
defend and protect me.
Jesus, son of God,
My savior, I trust in You.
May the peace of the Holy Spirit,
always dwell within me.
We are all children of God.
I am a child of God.
All children love one another.
(In the name of the Father, and of the Son,
and of the Holy Spirit. Amen.)
~Deacon Ken
Archbishops Annual Appeal 2020 Update Thru the End of May, 2020!
Goal for 2020: $73,500
Total pledged so far: $87,037
Pledges paid to date: $46,589
Goal % achieved to date: 63%
Number of families pledged so far: 308
Last year we had 394 families pledge, so we really need your
help again to achieve and surpass our goal as we did last year!
Remember, every dollar we go over our goal is returned to the
parish 100%.
Help support our seminarians like Juan Carlos Villota and Elliot
Andrade by supporting the Archbishops Annual Appeal 2020!
Social Hall/Narthex Renovation Update
Our construction continues renovating our social hall and narthex with a target completion date of mid-July. We were able to start this project due to a major donation from one family of $175k and $35k from our parish festival last year. This still left us about $50k short of what is needed to complete it but many parishioners have come forward supporting the project to complete it. Father Tim is so grateful of the generosity of our St. Michael parish family. Soon we will have a beautiful social hall and narthex to gather in community with your parish family after worshiping our Lord.
***New Mass Weekend Schedule***

With some additional time needed between some of our weekend Masses to sanitize the church, please note our new Mass schedule beginning May 30th/31st Pentecost weekend, as we're allowed to publicly celebrate the Mass together again. 
Saturday Vigil Masses: 
4:30pm English
6:30pm Spanish (new time) 
Sunday Masses: 
7:30am English (new time)
10:30am English 
1:00pm Spanish (new time)
3:00pm Vietnamese
5:00pm Youth Mass Bi-lingual
New Outside "Dropbox" Installed
We have had requests to have a "dropbox" installed outside the church, for those that want to drive by and drop off their Offertory gifts to St. Michael. 
It has now been installed in the front of the church, on one of the doors that enters the church by the School of Religion. 
Thank you for your continued Blessings to St. Michael!
Providing a Safe Environment 
Providing A Safe Environment
St. Michael and the Archdiocese of Atlanta is committed to provide a safe environment for all its' parish family. We have an ongoing concern for those who have suffered abuse. The Archdiocese provides an abuse hotline at 1-888-437-0764 to report abuse or suspected abuse. At our St. Michael website, www.saintmichael.cc, under the banner of Safe Environment, you can access other resources to report suspected abuse. The Archdiocese of Atlanta provides ongoing support for healing for those who have suffered this inexcusable trauma.