The Rite of Christian Initiation of Adults (for those 17 years or older) is presented at St. Michael in English and in Spanish beginning after Labor Day and concluding at Pentecost, seven weeks after Easter.
Classes in English are conducted on Monday evenings in Room 18 downstairs beginning at 7pm and concluding by 8:15pm.
Classes in Spanish are conducted on Sunday mornings in Room 18 downstairs beginning at 7am.
RCIA is for non-Catholics who are interested in learning more about the Catholic faith and/or becoming Catholic. RCIA also includes Catholics who have been
baptized but may have never made their First Holy Communion or been Confirmed. If you are unsure in some way whether God is calling and reaching out to you, I would just encourage you to attend RCIA and allow the Holy Spirit to dwell within you, and see where your holy encounter with Jesus takes you.
Deacon Ken Lampert coordinates the English classes and Indalecio Salazar coordinates the classes in Spanish. There is no cost to enroll in RCIA. The items needed for the English class include the New Catholic Answer Bible by Fireside Publishing, the Catechism of the Catholic Church, and a three ring binder to place the handouts on the topics covered weekly you will receive. The Catholic Bible and Catechism are available for purchase in the St. Michael Gift Shop located downstairs which is open after the Saturday and Sunday weekly Masses. Catholics who have received all the Sacraments of Initiation including Baptism, Holy Communion, and Confirmation who may have been away from the Church for a while and would like a refresher on the Catholic faith, are welcome to attend the RCIA class.
For more information, please contact:
For English: Deacon Ken Lampert E-mail Deacon Ken or text at 404-664-3178
For Spanish: Indalecio Salazar 770-744-6372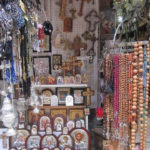 One of our hidden blessed gems here at St. Michael is our Gift Shop located downstairs.
It is open after the Saturday and Sunday Masses.
If you need a new Catholic Bible, rosary, scapular, medals of your favorite Saints, Catholic Catechism, prayer books, or DVD's, you'll find it in our Gift Shop.
It is staffed by volunteers so if you would like to help out after the Mass you regularly attend, and have an extra 20 minutes while the traffic dies down outside, why not volunteer? Contact Beth Andert to volunteer or ask any questions E-mail Beth